Hi my loves, 
How about a little chat about necklaces, and neck ornaments!  
Necklaces are probably one of the most popular jewelry items and I'm pretty sure that you own one or two or ... all of the existing models out there!! They are a really great way to change a look, add a little something to it or be the statement piece of your OOTD!!
I will present you my top five of absolute must-have necklaces styles with Inchoo Bijoux examples!!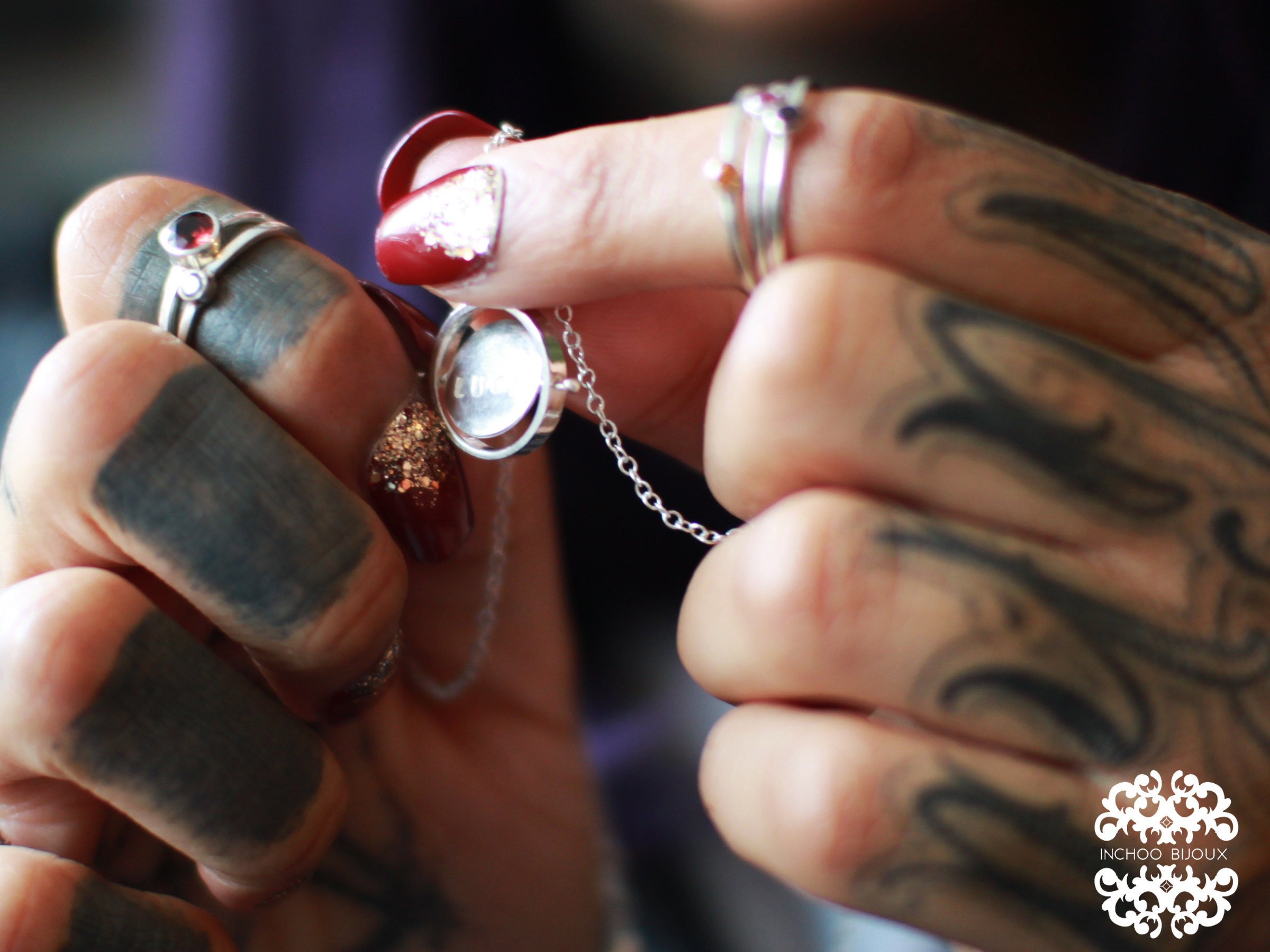 1. Long Necklace For me, one of the most must-have piece is a long necklace. It could be a pendant on a long chain, a combo of multiples chains of different lengths or something a little bit edgier.  I decided to choose a personal tiny statement piece that is one of my favorite jewels ever, The Spinner Charm Pendant. This pendant is dainty yet fierce with its hidden message that only appears when the pendant is spun. Inchoo offers a variety of messages like : Good / Luck, Good / Witch, Evil / Witch, Fuck / Off, Yes / No, Pussy / Power, but you can also have your own custom model made for you! Here is a video of the spinning pendant
Jewel: Good Witch Spinner Pendant by Inchoo Bijoux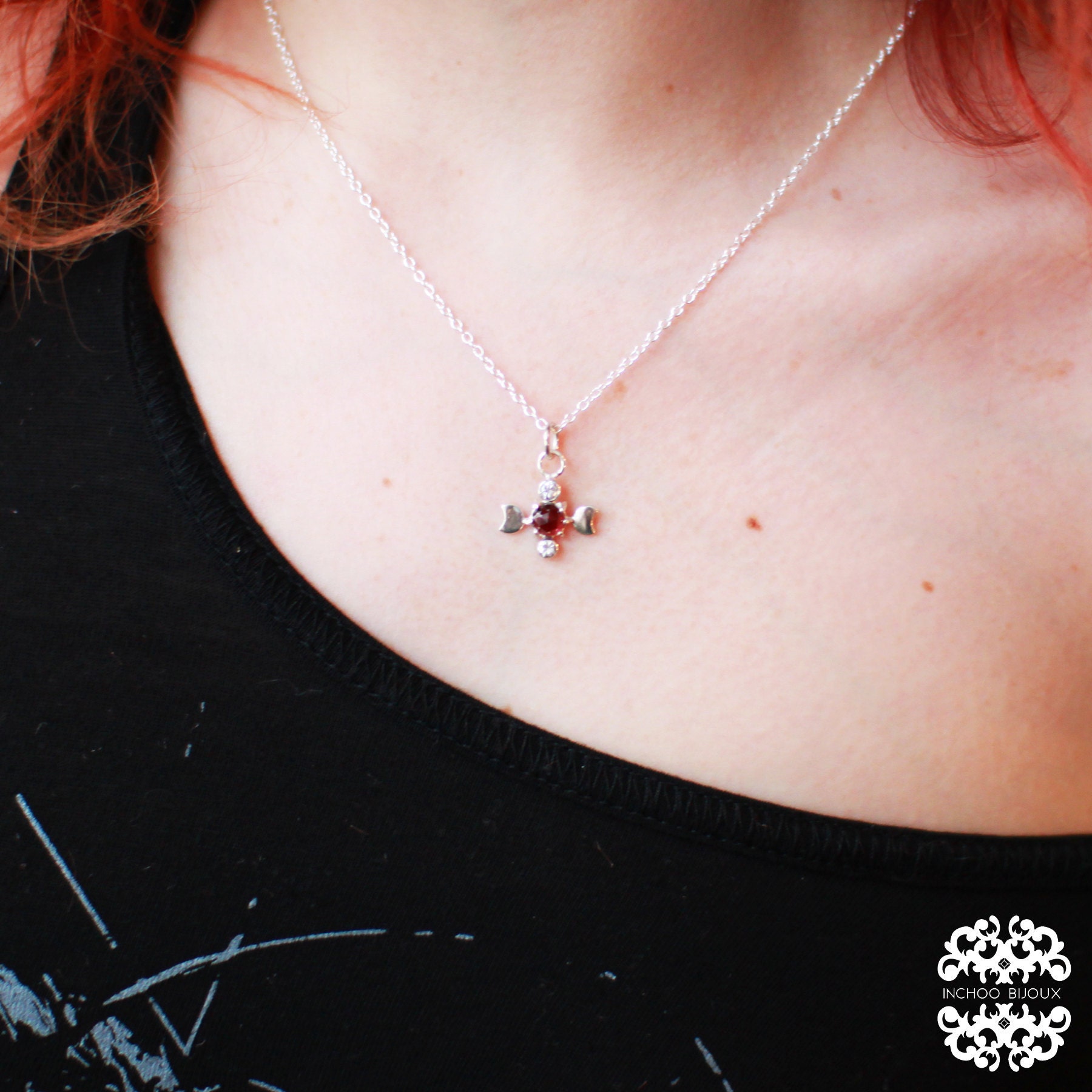 2. Delicate Pendant This one is probably the kind of Necklace Jewel that your already have. My favorite part of these pendants, is how easy you can swap them from chain to change to add some extra punch! For my part, my favorite one is a little gold medal with an angel on it that my grandmother gave me. I put it on when I want a little shine in my neck or I need her to be with me for a day!  It's never too late to find the perfect one for you. A delicate pendant is the perfect go to jewel to add a subtle shine to your look, or to gift to a friend. I chose to present you this Red Garnet Moon Pendant that is very delicate but adds a great punch with the deep dark red of the garnet! A perfect fall pendant!
Jewel : Red Garnet Moon Pendant by Inchoo Bijoux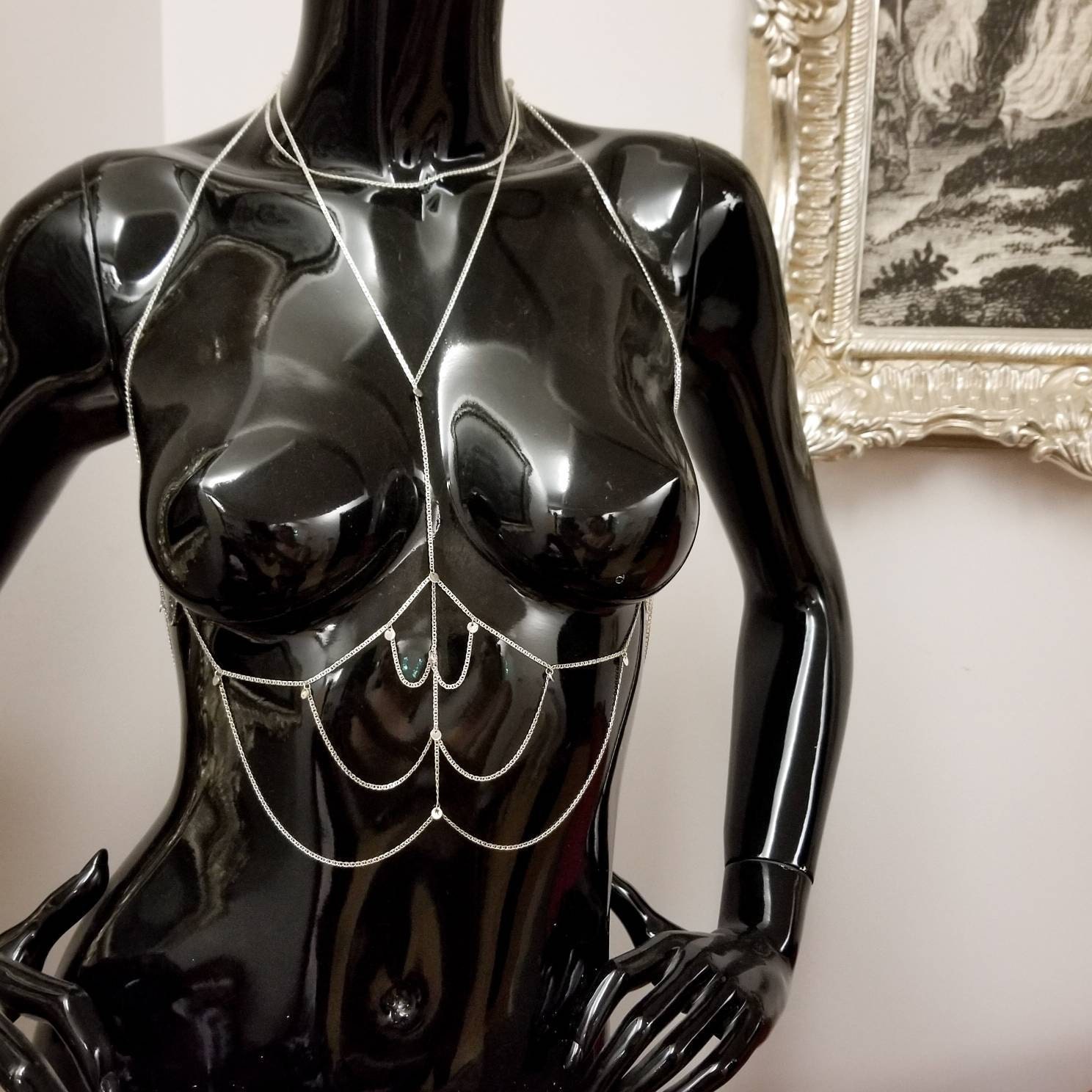 3. Statement Necklace The next piece you must own, is a statement necklace. I'm pretty sure when you talk about statement, you think about a very big and bold and eye-catching piece. That's a very popular way of interpreting it and this king of bold piece is also one of the essentials in your jewelry box. This kind of jewel is very good to experiment with, to go bold or to go subtle, but it will always add a wonderful detail to your outfit! That's why I chose to present you the Body Chain Harness! This body jewel is the perfect mix between feminity, elegance and rocker chic realness! You can wear it over a body suit, bathing suit, crop top or under a revealing dress, and those are only a few options!   
Jewel : Chain Body Harness by Inchoo Bijoux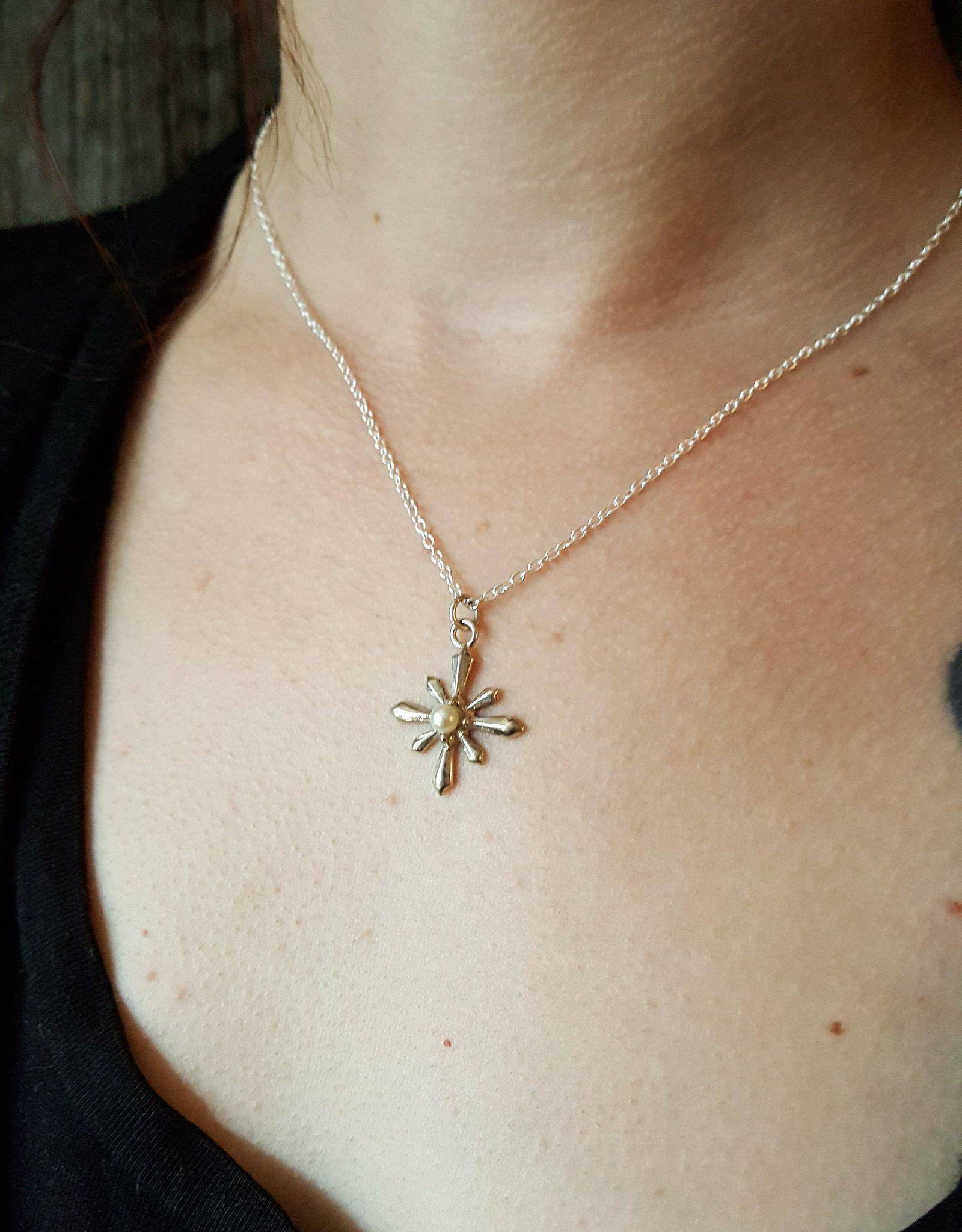 4. Pearl Necklace The famous Pearl Necklace... Supreme symbol of elegance and feminity. Usually very traditional. Pearl necklaces often look dated and not very modern, we are very lucky, 2018 has brought us an incredible pearl revival! For this category, I want to introduce you to our Art Deco Star Pendant. It's perfect if you want to channel your inner Coco, Audrey Hepburn or Lady Di, but with a little historic kick, instead of historic snooze!  
Jewel : Art Deco Star Pendant by Inchoo Bijoux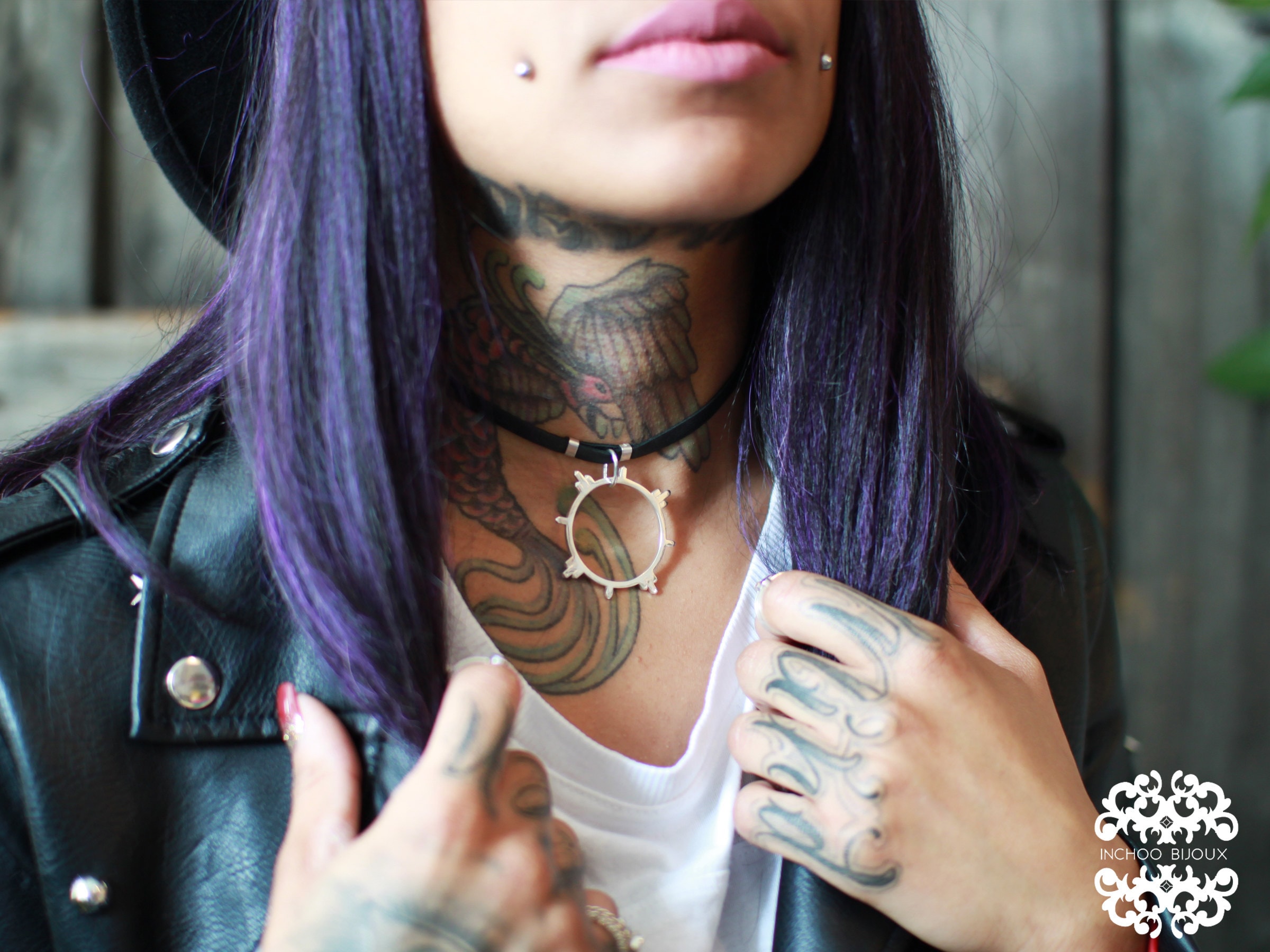 5. The Choker With the return of the 90's trends, the choker became very very popular. Everyone has either one or a thousand. It has become one of the most talked about fashion accessories and an essential in our jewelry boxes. It's the perfect accessory for a night out or to jazz up a little white tee and a leather jacket!! I love how it adds a little kink to any look! Here is my favorite Inchoo Choker, with the wonderful Celestial Hoop. 
Jewel : Celestial Hoop Choker
Hope my top 5 must have necklace chitchat guide has helped you style out a few outfits! Let me know in the comments what your essential accessories are! I want to hear from you!! 
With all my love, 
XX
Audrey Blogger and Stylist at Inchoo Bijoux