We get a lot of questions about ring sizes at Inchoo! 
Because we sell most of our pieces online, you often don't get the chance to try the ring on before you buy it. There are many different sizing charts available for different countries. We put together a sizing chart that includes the most popular sizing measurements.  We hope this ring size guide helps you find the right fit! 
If you would like a permanent solution for ring sizing, we have a ring sizing tie wrap in our shop. By ordering the multisizer, we refund you 3$ on your next order, the coupon code will be delivered with the sizer.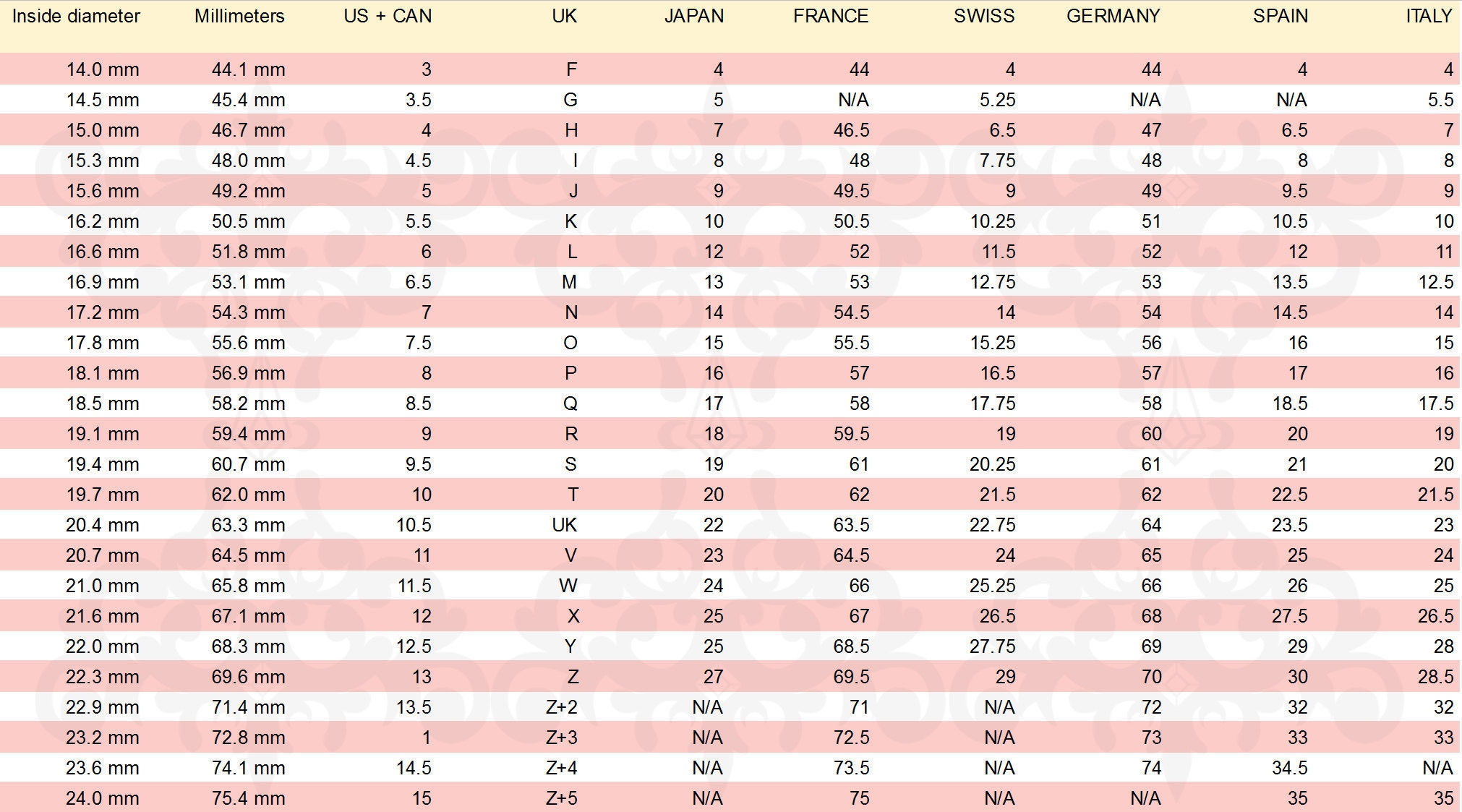 Click here to see this image bigger and download it!
Before Measuring:  
Pick the finger on which you'd like to wear your ring. The fingers on your dominant hand can be slightly larger than the other one. Be sure to measure the exact finger you'd like to wear your ring on.  
The best moment to measure your ring size is before bed. Make sure your hands are body temperature, meaning they aren't either cold or too hot. Make sure time has passed after taking medication, or food because they can cause finger swelling.   
How do I measure my finger? 
We made 2 charts for you right here!
Method A: How to use the String, ribbon, tread or thin strip of paper technique?
Take the piece of string, ribbon, tread or thin strip of paper and wrap it around your finger, close to the knuckle. Make sure it's snug but not too tight. Aim for comfortable. Make sure it's a non-stretchy string, tread, ribbon.  
With a pen, carefully mark the spot where the string overlaps with its end.  
Lay the piece flat, hold it up to a ruler that has millimetre measurements. 
Use our chart to determine your ring size. 
Double check yourself for accuracy, or ask someone to help you take the measurement.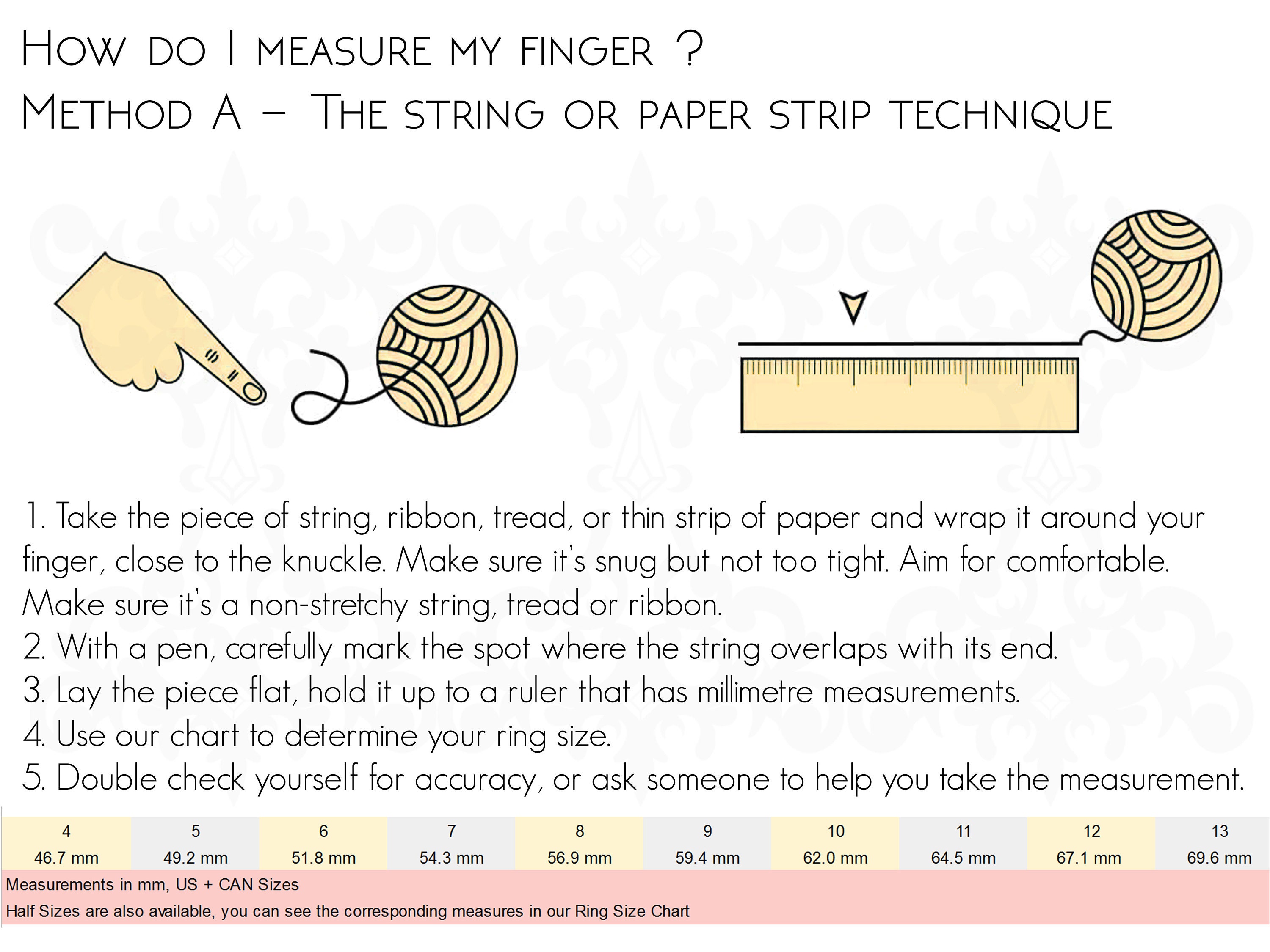 Ring Size Measurement
Method B: How do I find what ring size I am using a ring that I own? 
 Use a piece of paper and trace the interior of your ring on it. 
Measure the diameter of the circle you now have. 
Look up our measurement chart to find the corresponding ring size.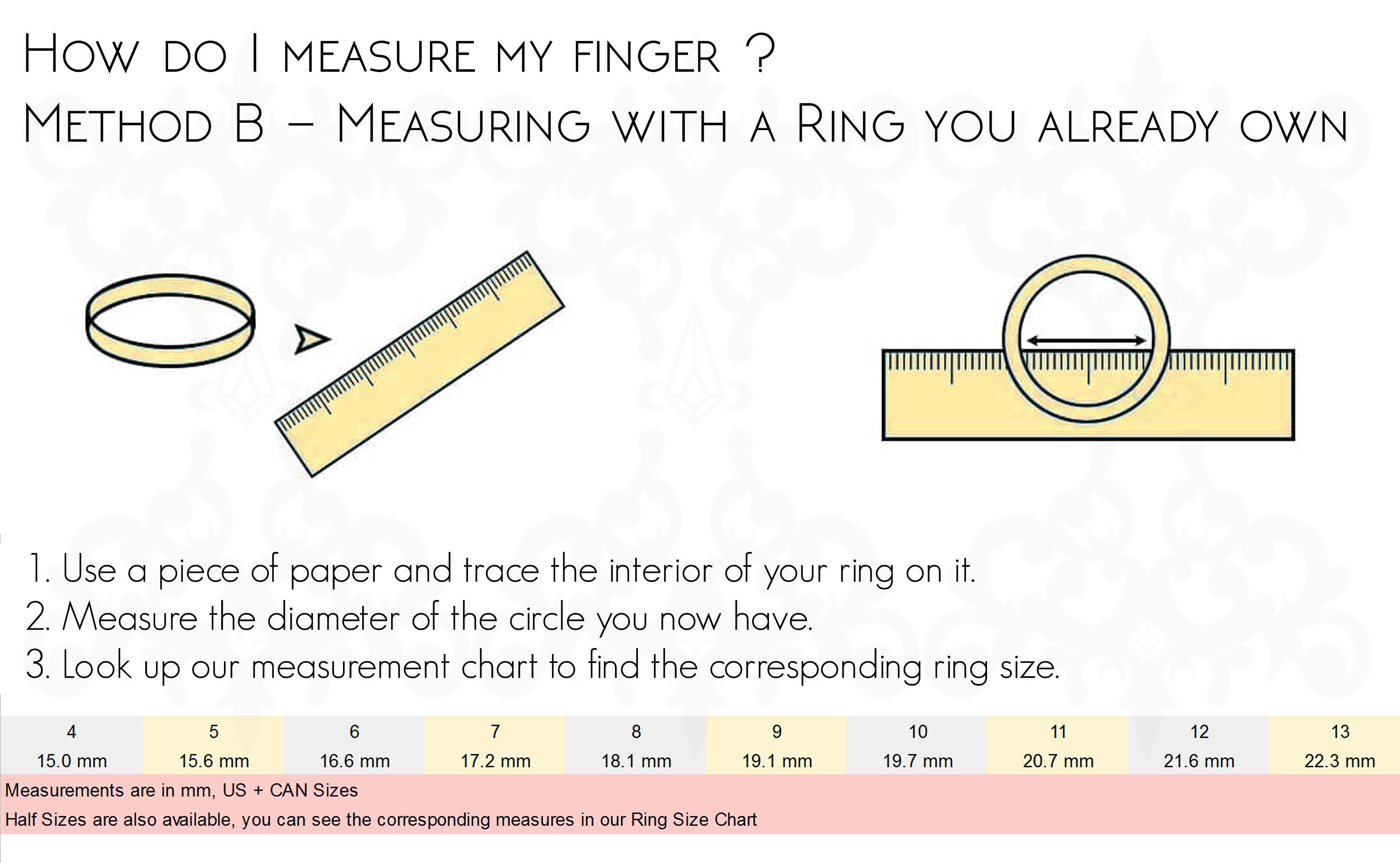 Additionnal information: 
If your knuckle is a lot larger that the base of your finger, measure both the base of your finger and your knuckle and select a size between the two. 
When considering a wide band, move up a size from your measurement for comfort.  
Different countries have different ring sizing systems, all sizes listed on our website are US + CAN sizes. 
The average woman's ring size is about 6, Men's is about 10. 
If you are buying the ring as a surprise:  
1. Ask your intended recipients mother, friend, sister, if they might know their ring size. 
2. Borrow one of your intended recipients ring and use the method B. Make sure you've seen that ring worn on the finger you intend to gift to fit.  
What if I order the wrong ring size?  
We are confident our ring size guide will help you select the right fitting. But if you receive your ring and it doesn't fit, don't worry, we are going to make sure you get the right size. Just contact us and our super friendly customer service will happily exchange your ring for the right size.      
Hope these tips help you find the right ring size!
Thanks for reading!
xx
Astrid